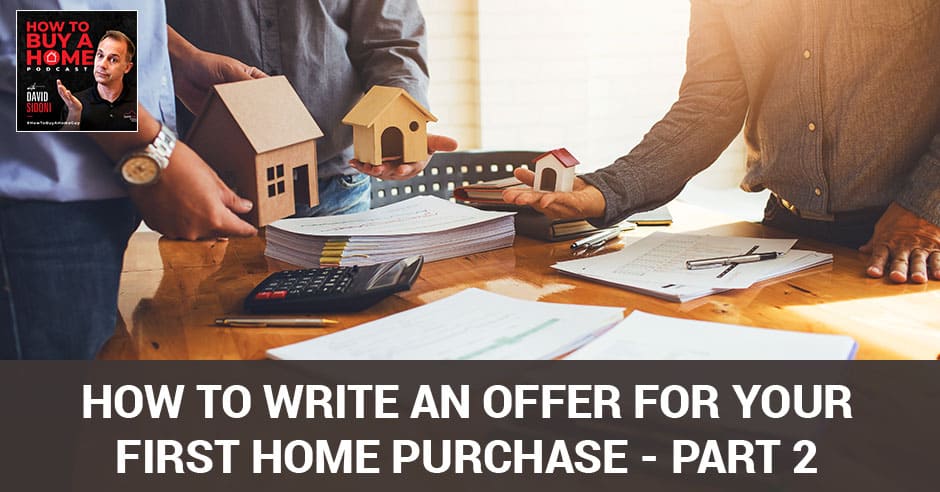 Here comes the second part of the discussion about the tips and techniques for the biggest moment for any first-time home buyer. After all, there are so many steps, tasks, and requirements, and you may be anxious about making an expensive mistake. David Sidoni, the How to Buy a Home guy, tackles one of the scariest moments for a first time home buyer—writing the offer to attempt to attain their dream home. This episode is filled with information for the most nerve-racking event in any buyer's journey. What are the secrets on how much to offer, when to offer, what to say, finding the little extras to make your offer stand out, and making sure you are getting the best deal?
—
How To Write An Offer For Your First Home Purchase – PART 2 
A Guide For First Time Home Buyers Writing An Offer And Getting It Accepted  
This is part two of How To Write An Offer For Your First Home, what to expect when you're writing an offer and how your expert team is going to navigate this for you. Let's answer the rest of your questions. 
— 
This is part two of writing your offer and we've got a lot to cover in this episode. Starting right off at the beginning, I'm going to confuse you a little bit. You need two things when you're ready to put an offer on a house, a positive mindset and some fear. I know it sounds weird, but fear is an indicator that you're on the right path. Life's about risk. When you feel fear, often it means that you're heading in the right direction because you're moving towards a chance for growth and a big change in your life. There's a quote from a great movie, Parenthood. The main characters are facing a scary but exciting decision in their life, having another child that they were not expecting. 
Grandma who is old and not all there, she wanders into the room and she hears them arguing. She says to them, "When I was nineteen, grandpa took me on a rollercoaster, up and down. What a ride? I always wanted to go again. It was interesting to me that a ride could make me feel frightened, scared, sick, excited and thrilled altogether. Some didn't like it. They went on the merry-go-round. That goes around. It's nothing. I like the rollercoaster. You get more out of it. I'll be waiting in the car." Grandma leaves and the couple starts to argue about the story and he says, "Great story, grandma. Thanks. I got the whole meaning of life from your awesome little rollercoaster story." She's upset by that. It got to her and she says to him, "I think your grandma's brilliant," and she storms off.  
[bctt tweet="It's okay to have fears, but you have to stay positive and know the right direction. " via="no"]
He looks out the window and looks back and he screams to where his wife left and he says, "If she's so brilliant, how come she's sitting in the neighbor's car?" It's okay to have fears, but you got to stay positive and know that this is the right direction. What we're going to do in this episode is attack the second half of the questions that we talked about last time, those questions that strike fearing you. By the end, you're going to be less afraid and more confident in the steel tracks and the construction of this rollercoaster ride. You'll find out like the rollercoaster, that same rollercoaster that millions of people ride every year, those people are happier for having taken the scary, but thrilling ups and downs of this adventure. 
What Is An Appraisal?
The questions for part two, what the hell is an appraisal? How long can I wait to write an offer after I see the home? Should I sleep on it? Can I negotiate on new construction home that's being built right now? How much should I put down? Is a first-time home buyer looked at lesser than some old dude buying a house? Should I play hardball? Should I ask about why the seller is moving? Should I write a letter? What loan is best? How do I make my offer stand out? How do I get them to say yes? How old is Baby Yoda? First up, what the hell is an appraisal? Why am I explaining and defining a real estate term when the main question is about how to write an offer? It's because this is a biggie for all you cheapskates out there. If you're in a competitive situation and you don't want to overpay for a home, I know you're getting ready to write the offer and you're like, "I'm not going up that high." Good news, you can't overpay. Anyone using a loan cannot overpay on a home. 
The loan protects you. It's not because those big banks care about you and your welfare. It's because when you get a loan and you buy a house, the bank owns the note, the loan on the home. Although they have already vetted you, they've already approved you and they've raked you over the coals to get that approval. They now confidently know that you're supposed to be able to pay them back in 30 years. Trust me, they're not looking out for you. They're looking out for them because what happens if you get hit by a bus three days after you buy the house? The bank is stuck with the loan. Their best way to get the money is to sell the house. Before they give you the loan on the house, while you're negotiating the contract, they've a neutral third party give the home an appraisal.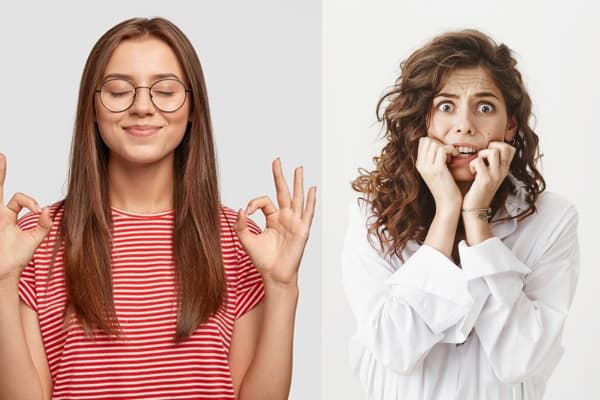 That process that assures them, that the price that you agree upon with the seller is at the current market value. If you're dead and you're squashed by the bus, they don't want a loan that is not worth the value of the home. They're only going to loan you up to the amount of the appraisal. Fear not, because you're covered you, can't overpay. Most of the time magically, the appraisal seems to come in right at the value that you and the seller have agreed upon. It works out great for everybody. If the appraisal does happen to come in a lower value than the price that you've offered and agreed upon with the seller, as long as you still have that contingency or option open in your contract, that option or condition, which you should, by the way. You and your realtor should keep that protection until you know for sure, then you can leave the deal without losing your deposit. 
If it does come in low, often the seller and the buyer decide to negotiate at this point to help keep the deal together. The key is you will get the home evaluated by a neutral third party. If that value comes in low, you are still contractually protected or you better be. You don't have to pay the overpriced value negotiated at the beginning of the deal. You can terminate the deal. You're protected. Get your deposit back and you cannot overpay. That's a very important thing for you to realize when you're writing the offer. You're covered by the appraisal, you can't overpay. A low appraisal can cause all kinds of negotiating headaches if you still want to buy that home.  
That's also why you want a unicorn team behind you. They've done this hundreds of times before and they know all the ways to work the deal. The main answer to this question, how does an appraisal affect my offer? The main answer is it depends. What's your timing and where are you in the market cycle? I know you want to punch me right now, but that's what you asked you unicorn. That's what you asked your realtor. Where are we? Are people going up? Are they going down? Are they paying an offering to pay for the appraisal? Everything's about timing. Where are you on the historical arc of buying a home? 
Next, after you see the home and you went to an appointment with your realtor and you saw the place, or you went to an open house. Everyone's questions as they walk out and they're making this huge decision is, "How long can I think about it and debate on it before I submit this offer?" It depends on market conditions. On a slower market, I've had clients that will wait a week to discuss with their parents, their uncle, their grandpa or their psychics. Back again in a hot market, I've had people go to dinner for a couple hours to discuss. It's a hot market, but they're like, "Just an hour and we'll be alright." They call me. I call the listing agent and find out there are three new offers on the home. In different markets, as it got slower, I've had people watch a home for months.  
One day they get a big bonus check or an inheritance and they're like, "We can do this," and we write an offer. We get the house that's been sitting for 3 or 4 months. The lesson here is the only way to lose your dream home is to not prepare and not be ready before you go look at homes. Be like the Boy Scouts, prepare. I cannot stress this enough. The main answer to this question, how long should I wait to submit my offer? It depends. If it's 2021, you can't sign the offer and get it submitted soon enough. What about later on, if you're reading this in the future, once again, it depends. You need to talk to your realtor, find out what's the market timing and where are you in the market cycle? 
[bctt tweet="The only way to lose your dream home is to not be prepared before looking at houses. " via="no"]
Can You Negotiate On New Homes?
What about new homes? Can you negotiate on a new home being built right now? It depends on the market timing. There's a lot to unpack with buying a new home, but the new construction homes, they still follow the same timing issues, the same market ups and downs that a resale home does. First thing you need to know is that in most areas, if you go look at a new home and you sign in with them, which most of them are going to force you to do before you can see their models, unless they're desperate and dying to get buyers, which is a whole different market. That's not the way the market is in 2021. They will not let you have your buyer representation if you sign in and if you show it up there without your realtor with you. I know it seems ridiculous and it is different in different parts of the country. 
If you sign anything, even a little sign-in sheet, without your realtor buyer representative with you, they then consider you their buyer. That will not only mean that you can't use a realtor to help you negotiate, but they're going to try to encourage or strong-arm you into using their lender as well. A lot of times they're going to try to entice you to use their lender and go directly through them. If you do that, you're going to get this so-called big discount or a lender incentive to use their partner. Most of the time my buyers have found out that the way it works out is they've manipulated the numbers a little bit and you can get a better deal with your own lender, no matter what they tell you. They're going to try to wrap it in this pretty bow of incentives, but there's extra fees or a bad rate and something else that your lender can match.  
Many of us in the industry see this as truly illegal, straight up collusion. For some reason, there are some crappy loopholes and the builders get away with it. How would you know that without a professional representing you? You won't. If you go on that site and you sign up without your realtor, it means you could be out of luck. That includes signing up online too, the whole thing, it can be nuts. The key to remember is the goal of the builder is to buy the land and sell off all the parcels as quickly as they can for the most profit and move on to the next one. Your chances of getting a deal or a solid value it's tenuous at best, especially if you don't have an advocate on your side. 
Sometimes depending on the timing, you can catch the right builder at the end of a cycle, trying to dump the last few parcels and move on. That's mistake numero uno of people who want to buy a new home. Numero dos is not understanding the exact market timing when you go to the builder. You've got to know, is the market hot or cold? If it's hot, there's lots of demand and low supply. They realized their home is a hot commodity, they might get a wristband and put you in a lottery for the privilege of being able to put a bid and get an offering on one of their homes.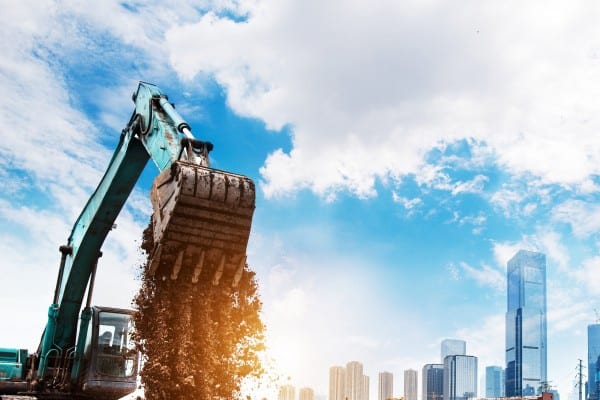 Who do you think wins in that market? Not so fast. It's not always the builder because it could depend on the timing. If you catch it and it's hot, but the market still goes up. I had a bunch of friends and my wife and myself, who bought homes back in 2004 and 2005 and those homes doubled in a year. Now that's not going to happen again because that was a crazy time. Still there are other times when the market is not so hot and then the builders are begging you to take their parcels off their hands. Once again, the main answer to the question, can you negotiate on a new build? It depends on where you are in the timing of the market. Where are you in that market cycle? 
Are First-Time Buyers Considered Inferior To Older Individuals?
Next question, how much should I put down? This question is the one I've gotten the most from readers at the end of 2020 and the beginning of 2021. I've gotten so many questions about it that I've decided that I'm going to dedicate an entire episode to this one. There's lots of math and it's going to bog us down right now. We'll do that as maybe a question of the week. It should be a lot of fun. Onto the next question, is a first-time buyer looked at as lesser than some old dude buying a house. You shouldn't be, but you might be. 
It's not because of anyone thinking that you're young and irresponsible. It's not that. It's how you are presented to the seller. You and your realtor are being evaluated immediately to determine if you can indeed close on this deal, not the price, but are you going to be able to close on this deal? The only reason you would or could get perceived in a negative connotation is because of the skill level or the lack of skill of the realtor representing you the first-time home buyer. 
I don't pull any punches here. I'm going to give to you straight, the crappy representation that even makes this a question is not because of you and your status as a first-time home buyer. It's the crappy representation that people think, "They don't like me because I'm a first-time home buyer." No, they don't like you because you have a first-time realtor. If you've got a naive inexperienced part-time realtor that doesn't seek the guidance and support of an experienced realtor to help them through the transaction, like they do in every other profession where you work with the master and don't run out there.  
If you don't understand what I'm talking about, go look at the old trade and the way that the trades used to work. There's always an apprentice, a journeyman and a master. This system has been with us throughout history. You don't walk up to the kid sweeping up the manure in the blacksmith shop and ask him to shoe your horse because, "He has a nice smile and we got along at the open house." No, an experienced agent worth his salt, what is that saying? What does worth his salt mean? How much 175 pounds of salt be worth? I can't work out as much because I have kids and in the middle of the night, I do these episodes for you guys so love my love handles. They're here for you. 
What Do I Tell The Seller?
Any experienced realtor worth his salt, his pepper, his silver, his gold, they can present you the first-time home buyer with the same vigor, the same polish as a second or third-time buyer. This question isn't going to be a problem. Now you're wondering, am I going to say is the first-time buyer looked at lesser than some old dude buying a house? Nope, it doesn't depend. This time, it doesn't depend. Money is money and if you've got a rockstar unicorn presenting your offer, you're golden. What do I tell the seller? This one's easy. Nothing. I love you all out there but shut up. I have a reason for this. I know lots of you think that the best way to get a connection with the seller, get the in, make them pick you and take your offer is because they want to sell you the house because you guys bonded. I've got news for you, 9.7 times out of 10, they want to get the most money from a buyer and they also want a real estate team that can close the deal. 
You tell the seller only what your realtor tells you to. There are even some laws about what you can and can't say in your "I love your house" letter. We can't persuade them in any way that could even sniff of any form of discrimination. If you happen to be in a situation where you see the seller in person, in an open house, or if they're there, when you go by for an inspection or something and you have any conversation with them, get used to saying this, "I'm going to have to check my realtor on that. We haven't fully discussed that." This one also does not depend. In a hot market or a cold market, let your realtor guide you in all things, including schmoozing with the seller. 
Should I Ask Why The Seller Is Moving?
Speaking to the seller, the next question is, should I ask why the seller is moving? No. You shouldn't ask your realtor to ask either. I know so many people think this is important. This is such an old school question. When I'm working, my next game crawls when I hear it from a buyer or buyer's realtor. Why? When presented incorrectly, it sounds like you're trying to take advantage of someone. If you're asking about the motivation, it sounds sleazy and this is the biggie. It weakens your negotiation position. If you have prepared months ahead of time and you have flexible options on time and money, then you can, and you should present that to them.  
[bctt tweet="When buying a home, you will find lots of little whatevers throughout the process, so be ready for them. " via="no"]
Should I Write A Letter?
That puts you in the driver's seat. You let them reveal to you and your realtor what matters most to them, time or money. You're set up so that you can give a little on one and take a little on the other. If you ask them what their motivation is early, then they're thinking, "Maybe they need to get in. Maybe they want to get it cheaper." Sometimes you can sound sleazy. Tell yourself this, why are they moving? Because they put a sign in the yard. Don't ask. If you do, you can come off as callous, slimy or worse, weak. Should I write a letter? Now this one's going to be short and sweet because things have gotten a little complicated with this. The short answer is yes. Beyond that, so that I stay out of legal trouble and that you guys stay out of legal trouble, you need to check with your realtor on what you can and can't say. The rule of thumb is don't make it about you.  
Don't make it about all you and your personal story. Make it about the details you saw in the house that you love. Now to do that, I always tell people to find things the sellers likely and probably are pretty proud of, personal touches, upgrades, an obvious remodel and their garden. If they do any gardening or if the landscape is kept pristine and nice and little things like an accent wall. If they've painted something and with an accent color, they did that on purpose. Talk about the decor, the unusual use of any space. If they use a dining room as a playroom or an office. If they've converted the garage into something cool or unique sitting or dining areas, anything unique, that was the owners' obvious personal touch to the home. 
Make it about the house and what they did to it. Remember, you never know this could have been their dream 20, 30, or 50 years ago. Every upgrade they've done since then was thought about by them. They see it as an improvement even if you don't. Be careful. Please consult your professional and certain personal revelations can be construed as steering into a discriminatory danger zone. You have to be careful. One of the ways you can be careful is a story I had with Eric and Kara, my friends who were buying a home. It was not quite a super-hot market, but we did know there was some competition. 
As we walked through the house and we were looking at it, we noticed that they had dog bowls and a couple of posters and things that talked about the dog. Things that were obvious that they were big dog people. When we were looking at the closet space, we saw some hats that were military hats. We were bringing our offer in and it was a VA offer, which is a Veteran's Offer. We were zero down and we were going up against an offer that was 20% down, which usually means you're in a real weak spot. Rather than put it in their face, "I'm a veteran, you're a veteran, let's be veteran buddies." No, that gets in the discrimination area there.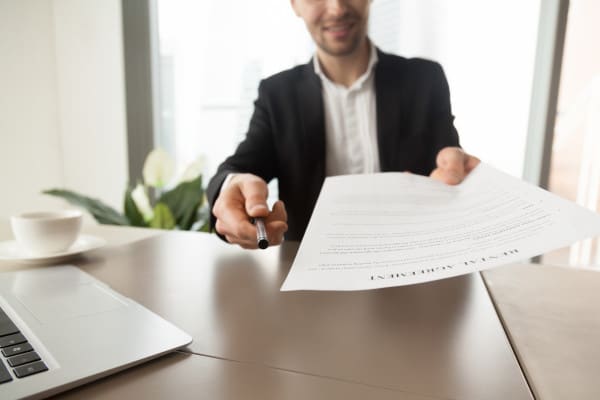 What we did was I subtly mentioned that don't worry about the fact that we're coming in with this VA loan. Eric's taking advantage of the fact that the government's allowing him to do this. We do have all these extra funds. We're choosing to use this because of the privilege for someone who served. Now, what I did was I made that about the financial. Instead of writing about the dogs and writing about how we love dogs, you love dogs. I made sure that the picture that we included with the letter had a picture of them with their dogs. There are ways that you can let your personality be known without hitting him over the head with it. 
What Is The Best Kind Of Loan?
What loan is best? This one is easy. It's the one that gets you the home. This should not be a question for the day that you write the offer. Your real estate team and you should have gone over these backwards and forwards months before. By the time you get to the place that you're writing an offer, you should know the details of your loan options inside and out and be confident on how you want to proceed when you write the offer. Some of you out there, you could be lucky and maybe you have a few different options on how much you want to put down. You might be able to use this to your advantage to make your offer look better by using different strategies in downpayment decisions with each individual offer, depending on what the particular price is for the home that you're trying to get. You never know. You might want to stretch. You might want to move money around or you might want to go with a big down payment on a cheaper place and have a much smaller mortgage. 
Here's a real-world tip, a real-world example of something that happened. Inside there is this story is going to be a very big tip when you get down to the nitty-gritty numbers. As you get to the end of the deal, you're going to hear the phrase cash to close. The way it works is you put down what's called an Earnest Money Deposit or an EMD that goes into an escrow or into a contract period if you're in other parts of the country. As you get past your buyer beware inspection period, you do put that earnest money down, but it doesn't go directly to the seller it's held. That buyer beware period is known as the contingency or the option period. When you get past that, you sign off and that Earnest Money Deposit or EMD, gets applied to your down payment at the closing.  
The cash to close is the remaining money that you need to pay over and above the EMD. You got to pay that a few days before you close. You're paying what's left of the down payment. Once that's applied, you've got to pay the remainder and your closing costs. Here's a big tip to consider when you're figuring out the best loan to close with. This is an example from Zack and Chantal from episode 31 that I helped here in Southern California. If you guys remember, they were right on the edge financially. They had $9,000 and got a $450,000 house or something crazy like that. We had discussed the numbers and in the transaction, because it was so tight, they asked for $3,000 for some repairs to make it a little less that they'd have to bring in for the cash to close so that they could have a little cushion. 
As it happened, the seller refused. They didn't get it. Because we had discussed the numbers ahead of time, we knew that the cash to close was based on an estimate from the lender. That estimate is sometimes called a good faith estimate. After the crash of 2008, the rules changed and these Good Faith Estimates, they call them GFEs. The estimate the lender gives you for the cash to close. They have to overestimate on that number. That rule changed because the lenders estimate in the old days was wrong. If their estimate was too low and they go, "You guys got to bring in some extra money to close the deal." That's the way it used to be. 
[bctt tweet="Never assume that house sellers are only looking for the perfect people to love and adore their home. " via="no"]
At the last minute, you're already past the period. Now you got to bring money in that you weren't expecting. Now, they've changed the rules and the lender has to pay the difference if that estimate they gave you is wrong. This prevents them from giving you low, optimistic number to get you sucked in, to get you to go for it. What that could do is if you get to the end and you're committed, you're in the deal, the lender can't say, "Sorry, you got to bring that money in because you got to pay for whatever." We knew that it was an over estimation and we're going to be okay. As it turns out, instead of $28,741 to close, it was $19,260, almost a $10,000 difference.  
This is not going to work this way for everybody, but this is the way it worked out for them because it was anticipated by them, their lender and their very handsome and charming realtor. The key is you will have already planned for all these types of scenarios ahead of time. The main answer to the question, what loan is best for your purchase? It should have been determined months ago. At that time when you're trying to figure it out, it's going to depend on the timing. It's going to depend on the market and it's going to depend on your finances. If you want to leverage your money or if you want to put a big chunk in the house, but you got to have those discussions long before you ever write the offer. 
How Do I Make My Offer Stand Out?
Next question, how do I make my offer stand out and how do I get them to say yes? The biggie, it's not just the price. There are many multiple factors that will make your offer be the one to get accepted. I could go on and list all the tweaks that you can do in your offer to make it more appealing to the seller. That's boring. It can get very tedious and very complex. I'm not saying you shouldn't know these things. In fact, this is what I recommend to all of my buyers and what I recommend to you before you get ready to write your first offer, ask your unicorn realtor to tell you what is the standard procedure for every item in the contract. 
Before you ever write one up, get one that's in a regular market, show us who does what, who pays for what, then you as a team, when you're getting ready to write an offer, you simply decide which items to give a little and which items to take a little and which to leave in the standard normal procedure, which you've already gone over. Every local area has standard items the seller usually pays for and the buyer usually pays for. Every local area has standard timelines for the escrow or contract period and for the contingency or option periods. 
Know these ahead of time and when you get there, you work with the realtor to decide which to change in your favor or which to change in the seller's favor if you're trying to nail this one down. Some of the best advice that I can give you is don't look at presenting your price on your offer as the big moment to make your grandiose take it or leave it moment, your big last stand. Be careful and this is why. If you start off a relationship in a contentious manner, you need to realize you're not done. This is the first negotiation.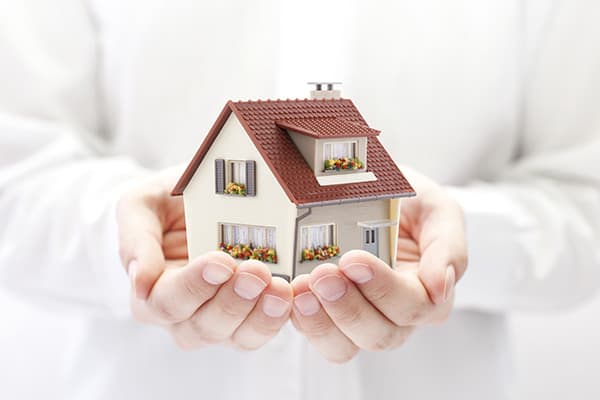 In California, we've got two major negotiations coming. I'm thinking most of the states that these two big ones happen, the inspection and the appraisal. Depending on where you live in other parts of the country, maybe you're going to have to have sewer inspections. You're going to have to have different things that we don't have out here in California, but you're going to have at least two big ones. I'm not saying to cave and offer over the moon at the beginning because you realize, "What about the inspection? What about the appraisal?" 
What I have seen happen in the past is I've seen a buyer come in hot and they play hardball right up top only to lose big time later on because they didn't realize they had two more negotiations coming up. You set yourself up so you don't make the seller feel totally defeated. That way, maybe later on, they'll be more willing to negotiate with you. If you make the seller feel like they lost right from the start, they are going to want to get a few wins in before they hand you those keys. I'm not a big fan of this phrase because it gets overused in real estate, but you got to think win-win when you're doing that price negotiation right at the top. 
If you go hardball and you piss them off, and then later on, you find issues with the home in the inspection period, they're not going to budge much if at all, to get any of those items repaired or give you a credit for the items and this is crucial. You need to look at those items as cash. You see the price that you negotiate at the beginning, it's a monthly payment. $290,000 might cost you $1,600 a month with these crazy rates that we have right now. $290,000 is going to cost you $1,600 on your 30-year loan. $300,000 might cost you $1,650, but answer me this. If I tell you, you can get a house for $290,000 or $300,000, how much do you think you lost? It's $10,000. That's merely a $50 a month concession. 
If you feel like you're going to lose $10,000, you're losing $50 a month. The secondary negotiations that we're talking about, you got to think those as straight cash. If you pissed them off right at the beginning and they later on are so upset with you and there are some things that need to get fixed, they can decide not to give you a dime for the $5,000 repairs. Where do you think that money comes from? That's cash. You can't get a loan for the repairs. That's cash that you need to bring in to close or something you're going to have to fix or live with after you've already purchased the home. 
What if an appraisal comes in $5,000 low? If you've made them angry and they decide not to budge or compromise on that, you have to pay the difference in cash when you close on the home. It's not the $10,000 you lost in the initial negotiation. It's $50 a month so that you can have win-win negotiations throughout the transaction and then still have the right amount of cash or more cash at the closing. Remember this, often they may live in the house right up until the day they give you the keys at the very least. Wouldn't it be nice to see them and have a pleasant conversation the day that they give you the keys, so they can talk to you and you can talk to them? 
Maybe they'll be nice and they'll tell you all the little quirks of the home, like "What the heck does that light switch do?" They'll tell you, "Uncle Joe installed that in 1997. He could flip it on and turn on a circular fan from across the room with a flip of the switch." Maybe they'll tell you about the neighbors or their favorite things about the neighborhood. What would happen if it got ugly throughout the negotiations? How scary would it be if they were aggravated? Think about the potential surprises that you could find years down the line hidden in the home if you make them mad. 
That was my tangent on initial price. Let's get back to what you do to make your offer stand out and how you get them to say yes. It's one word, presentation. Your offer's going to be reviewed by the realtor who then in turn advices the client. You have to have a pro to get your offer to the top of the pile or to be looked at with respect. Your goal is to get a strong endorsement from that listing agent. Your realtor has to feel out the other realtor and present both on a professional and an emotional level. Too much of one or not enough of the other can hurt your chances. 
You never know. That listing agent, they might be all sunshine and rainbows and chat your ears off, but maybe the seller is cold, pragmatic and analytical. Don't assume that the seller is only looking for the perfect people to love and adore their home. Just like you shouldn't assume that they're only looking at the bottom line. You got to bring in a little emotion and a little professionalism. Higher approach to represent you and then trust them. Let them guide you on how to present the offer and listen to their expertise. Assume that they have your best interests at heart. I always crack up when people go, "They want me to go as much as I can because they get more commission." Let's think about that. If you think they're going for a higher price, the math is pretty darn simple. A $5,000 difference to you is only $125 or $150 difference in their final paycheck because they're only making 2.5% or 3% of the $5,000. 
How do you get your offer accepted? By picking a unicorn pro months ago and letting them do their thing. It may not work out every time because it is a one-off sale and the seller could be cuckoo. If you've got that great team months or maybe even a year ago, you can be confident that at least you did put your best foot forward with their assistance. Professionalism can come in many different ways. As a matter of fact, one time I was representing a seller and a realtor drove an hour without her clients because they had come earlier to an open house and she was someplace else with some other buyers. 
She came to meet me in person, put a face and a presence to her client's offer. She didn't interrupt me because I was in the middle of the open house. I was talking to other buyers. She was respectful and professional. When there was a break in the action, she introduced herself to me, told me a few particulars about the offer, not too much. She thanked me for my time and she told me to call her or I could even call her lender if I had any questions or concerns. As it turns out, this is a few years ago and the market was hot back then, we had multiple offers on the house. 
[bctt tweet="Real estate is not fair. It's a one-off deal. There's no management to complain to. You never know what's going to happen. " via="no"]
Of those multiple offers though, one realtor emailed me an offer without even calling to let me know that their clients have made an offer. Another realtor sent me an email that was totally disjointed and difficult to decipher. When the realtor called me to tell me about it, he seemed unsure of the process and tried to buddy up with me without any actual facts or details about the buyers or the offer. The last one called me during the open house, which I mentioned right at the top of the call, I'm at the open house. The realtor tried to butter me up. It was having this long rambling suck-up call, which they should have known that I was busy at that point, but maybe they didn't because they don't do the job of a realtor and don't know what to do at an open house.  
Who do you think I recommended the sellers, even though that offer was less than the other sellers? The listing agent doesn't present the price. They present the package and their faith in their team and their ability to close because they've done this before. That can be very reassuring to a listing agent and to a seller. Your representation could be the difference between you getting your dream home or losing it. If you choose cheap and you try someone offering you a discount or a kickback, when you want to save a buck or if you choose inexperience because you haven't interviewed the agent correctly. You got along with an open house, but you don't realize they've only sold three homes in their career, you could lose what you've worked so hard to achieve. 
That's because if you're not prepared, you can get a tough situation. It's very important that you understand real estate is not fair. It's a one-off deal. There's no management to complain to. You never know what's going to happen. That means you need every advantage you can get. Remember, you get to pick whatever buyer agent you want and it's free. Get the best, get represented well, present your best foot forward and at least you'll have a chance in this crazy world of real estate. That was a lot. The offer is pretty darn important. Did you learn anything?  
If you did, please write a review. Not for me, for everyone else out there. Even a short one, jot a few words down. That'll jump us up the charts, which means more scared people out there can take a chance to ride this rollercoaster. If you're ready to do this and you want to find yourself a unicorn, go ahead and reach out to me. I'll get you that local experienced realtor who loves first-time home buyers and isn't going to blow you off. If you need a unicorn, DM me on Instagram @DavidSidoni. You can always go to my website, DavidSidoni.com, fill out the contact form. I'll get back to you. 
You can join the Facebook How to Buy a Home private group and chat with other people. There are lots of people in there talking about their experiences. On my website, you can click on YouTube. I've got some videos there. I've got a whole bunch of information there. If you haven't subscribed yet, I've got a notebook full of shows coming and we're going to be doing the question of the week every Friday. Hit me up and send me your question. I can't promise that your question will be a question of the week. Your question might suck, but I can promise you this, you can do this. 
 Important Links:
This podcast was started for YOU, to demystify things for first time home buyers, and help crush the confusion. After helping first timers for over 13 years, I knew there wasn't t a lot of clear, tangible, useable information out there on the internet, so I started this podcast. Help me spread the word to other people just like you, dying for answers. Tell your friends, family, and perhaps that random neighbor you REALLY want to move out about How to Buy a Home! A really easy way is to hit the share button and text it to your friends. Go for it, help someone out. And if you're not already a regular listener, subscribe and get constant updates on the market. If you are a regular and learned something, help me help others – give the show a quick review in Apple Podcasts or wherever you get your podcasts, or write a review on Spotify. Let's change the way the real estate industry treats you first time buyers, one buyer at a time, starting with you – and make sure your favorite people don't get screwed by going into this HUGE step blind and confused. Viva la Unicorn Revolution!
Instagram @DavidSidoni
Tik Tok @howtobuyahome